My response to Mike's comments on my nuclear attack post.
Let me first say, I find your blog well put together, interesting, relevant and you are obviously an erudite individual. I chose to follow your blog among others because of your content and it's relation to my own interests. 

Thank you for reposting my nuclear attack article with your own thoughts. While I agree with your comments, I do not agree that it is completely "impractical and unnecessary" to worry about a nuclear disaster on our own soil, or anywhere in the world.  As the events in Japan show, nuclear power plants can cause a wide variety of problems, risks and worse whether triggered by human error or even the forces of nature.  Reactors are very complex and MANY things can go wrong.  My post was not to encourage immediate fear as if we're all going to be exposed to radiation off the winds of Japan tomorrow.. but to simply point out what to do in-case-of and to note just -how many- nuclear plants we have in our country and where they are most dense.  Also - according to the American Medical Association, those plants collectively are NOT adequately prepared if there was a radiation emergency.  Doesn't make me feel any safer..  I found the number of plants combined with this information to be far too many for my comfort.  I am just simply stating the obvious, this shit's got to go, whether this type of disaster produces large or small effects, few or many deaths, cancer or no cancer, radiation or minimum radiation.

Thankfully, what "control" Japan has over the situation has helped save many lives.  But you, yourself, posted earlier "Since the disaster struck in Japan, about 800 workers have been evacuated from the damaged nuclear complex in Fukushima. The radiation danger is that great. [That] a handful have stayed on the job, risking their lives, to try to save the lives of countless people they don't even know."  While this is honorable, no one should have to be afraid of or die for something that is being perpetuated despite everyone knowing it is dangerous to both people and the environment. There are possibilities of using alternative energy. I am NOT one of those people whom you refer to that presumes "the only way for an [nuclear] accident to end is with an entire hemisphere of the globe suffering from nuclear winter."  I DO believe that it is important to be aware, be educated, be alert and be prepared.  For ANY plausible possibility, as much as you can be.  Such as, "Hey, so I know you don't have this problem now.. but in case you ever do, here are some things to know."  Our species is only renting this great planet and if we continue inhabiting it the way that we are.. even the maintenance guys will be unable to fix what we've broke.  Even you, dear sir, or those in generations to come, may be rushing to acquire iodide tablets, or heirloom seeds, or shelter or worse - a new planet.
His response to my original post:
It's impractical and unnecessary for individuals to fear a nuclear power plant disaster in the United States. Chernobyl has been the only sizable event in the last 50-60 years that nuclear energy has been popular. Three-Mile Island is the second most popularly-known nuclear power plant accident after that, in which exactly zero people died and not one case of cancer or disease has been linked to that incident.

Most problems at nuclear facilities in the last several decades that have lead to any injuries at all resulted in only a handful of deaths. A look at this chart showing history of nuclear accidents shows a literal handful of accidental deaths related to nuclear energy accidents with exception to Chernobyl (although the number of deaths/cancers/diseases caused by Chernobyl far exceeds the number on that chart, but at least two dozen studies have reached very different estimates on the results of that event).

Chernobyl

Excluding Chernobyl, the number of deaths as a result of nuclear energy summed together is less than that of the typical coal mining accident. For that matter, the number of deaths as a result of air pollution due to coal energy is estimated to be anywhere between 13,000 and 24,000 every year in just the United States.

The possibility of another Chernobyl is extremely unlikely; the way that facility was constructed was no where near the quality to which nuclear reactors are constructed today. The cause of that accident was directly related to a number of operator errors due to a lack of understanding on how nuclear reactions work, and was then compounded by the Ukraine government taking 36 hours to before ordering the evacuation. Following that, they then proceeded to hide the disaster from the neighboring countries until a nuclear power plant in Sweden detected radioactive particles in the atmosphere. Then after the situation was stabilized, 800,000 people were forced as part of their mandated military service to the USSR to help clean up the contaminated region around Pripyat. While it's impossible to find even sort of accurate numbers on this because of how the USSR ran this operation and because citizens involved with the clean up came from a variety of different countries that divided apart from the USSR in 1991, it's suspected that most of the deaths, cancers, and diseases caused by the radiation were the result of the citizens that the government had sent to perform the liquidation and clean-up of Pripyat.

Twenty-five years later, the way that a problem in a nuclear plant is handled is no where near what how it was when Chernobyl happened, so I find it silly how news channels and media outlets ask "Could Chernobyl happen again?" If you read up on Chernobyl and the causes behind it, you'll find that it's an accident only in the sense that the plant operators did not fully understand the eventual consequences of their actions, but it certainly could have been prevented.

Japan

In Japan, after both a tsunami and an earthquake struck the 40-year-old Fukushima Dai-Ichi reactor in the same day and has suffered numerous aftershocks in the days to follow, the situation is still under control.

When I say "under control," I mean that there has been plenty of time for evacuations to be called and at least for the meanwhile, Japan has yet to be removed from the face of the planet despite all too many man-made and natural disasters over the last century. The situation could continue to worsen, but for now the best engineers in the world are responding to that crisis and the general public remains out of harm's way.

I don't mean to grossly oversimplify a complicated matter, but I'll go ahead anyway and do it; nuclear energy is scary because everyone presumes that the only the only way for an accident to end is with an entire hemisphere of the globe suffering from nuclear winter. In practice though, we've seen the worst-case scenario and can readily identify a myriad of different things that shouldn't have happened — almost all of which were due to the way the Soviet Union operated the plant and reacted to the situation.

As we look to the crisis at the Fukushima I site, we should notice that thus far the only people endangered have been people within the power plant. 37 injuries have been reported and an additional 2 people went missing after an explosion. No fatalities have yet to be reported (although the two people missing can be presumed dead), and no reports have been made of anyone with radiation sickness. In the grand scheme of it all, things at the Fukushima reactors are going well. At the present time, the total cost of this incident will be enormous as the entire plant will have to be decommissioned and response efforts certainly haven't been cheap, but for the effects on people, roughly the same number were injured and a dozen more were killed in that bus accident earlier this week.

Let's not worry about this nuclear power plant turning into another Chernobyl, because fundamental differences in the plant design and operation make that impossible. Instead, let's remember that Japan was the victim of an earthquake and a tsunami one week ago that killed 7,000 people by the rising official count, while another 10,000 remain missing and 400,000 remain homeless.

For the average individual to even worry about a terrorist attack on a nuclear power plant is unnecessary; there isn't a terrorist organization in the world that can do more damage to a nuclear plant than a tsunami and an earthquake hitting an old power plant on the same day, and as we've learned from the Fukushima I power plant, all that has yielded is an accident not any larger than that of a recent bus accident.
Protecting yourself from a nuclear attack.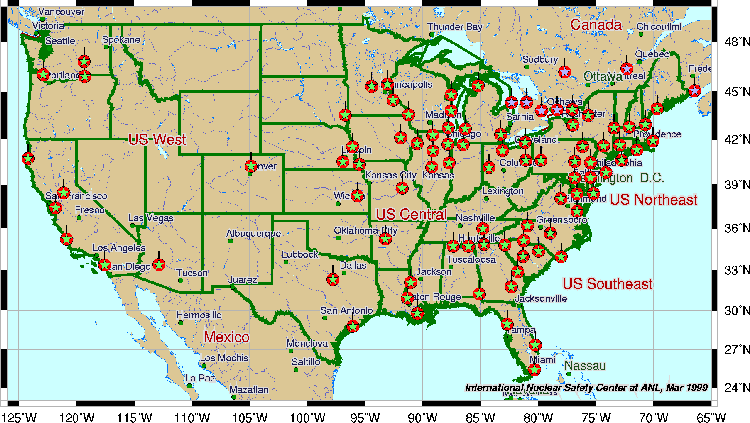 Where Is the Risk?
As far as accidents or attacks on nuclear plants in the U.S., most people in the eastern half of the U.S. are in a danger zone of exposure to radioactive iodine. Several other states, including Texas, California and Washington state, are also at risk. See a map of nuclear reactors and plants.
Since the September 11th terrorist attacks, orders for potassium iodide have been on the rise, primarily as individuals and municipalities in the areas around nuclear plants have ordered the thyroid-protective drug to keep on hand or distribute in the event of an attack on nuclear facilities, or a dirty bombing.
It's been reported that Fukushima Daiichi nuclear reactor (福島第一原発) in Fukushima Prefecture has seriously malfunctioned. There are credible Japanese government agency sources saying that there are measurable levels of radioactive particles showing up in Tokyo. Whether that's within a safe range or not from the U.S., I don't know, but thinking about protecting yourself (just in case) can't hurt. So, what can you do?
Would Potassium Iodide Help You in the Event of a Radioactive Release?
Radioactive iodine is a major constituent used in nuclear power plants as well as in the fallout from nuclear detonation. Carried for hundreds of miles on the winds, if radioactive iodine is taken into the body through breathing or consumption of contaminated food, it is collected and retained by the thyroid gland. There, this concentration of radioactive material results in a variety of life-threatening illnesses including cancers and leukemia.
+It should be noted "that while flooding your system with iodine will minimize absorption of radioactive iodine – which will otherwise be absorbed into your system, emitting radiation that may kill you – this will not prevent you from absorbing radiation in other ways."
The most effective way to get iodine into your system if potassium iodide is not readily available is to consume kelp tablets. Alternately, you can eat other seaweed, such as Wakame and Nori in quantity (both wonderful sources for iodine). CDC's guide to the use of iodine tablets. 
Where Is the Risk?
As far as accidents or attacks on nuclear plants in the U.S., most people in the eastern half of the U.S. are in a danger zone of exposure to radioactive iodine. Several other states, including Texas, California and Washington state, are also at risk. See a map of nuclear reactors and plants.
Since the September 11th terrorist attacks, orders for potassium iodide have been on the rise, primarily as individuals and municipalities in the areas around nuclear plants have ordered the thyroid-protective drug to keep on hand or distribute in the event of an attack on nuclear facilities, or a dirty bombing.
As Japan struggles to bring its spiraling nuclear catastrophe under control, a new study in a journal published by the American Medical Association (AMA) finds that, from a public health standpoint, U.S. states are "poorly prepared" to respond to a major radiation emergency.
"The nation remains poorly prepared to respond adequately to a major radiation emergency incident," the study, titled "State-Level Emergency Preparedness and Response Capabilities," says. "Capabilities are insufficient or inadequate throughout the functions assessing planning in state health departments, resources in the state health department and other state agencies, and relationships with federal and other partners. For some measures, as many as 85% of responding states reported insufficient capability to respond to a radiation incident."
Scary.
A 6 year olds perspective on what's going on.
My sister woke up this morning so concerned with what was going on in Japan, which led to this conversation.
Me: Why are you up so early?
Her: What in the world? Did you not hear about the tsunami?
Me: I did. I know. It's horrible.
Her: Heck yes it is. We need to buy sushi as soon as the sushi place opens.
Me: Huh? Why?
Her: Oh my goodness. Do i need to explain everything for you?
Me: Yeah. I don't understand why we need to buy sushi?
Her: It's because when you buy something japanese the money goes to japan. or could I send my piggy bank to someone in japan? they need it more then I do. I'll even send them my floaties. I don't need any of it. Why did this happen to japan? they never did anything wrong.
Me: That's just the way mother nature works.
Her: Well where's father nature? I'm sure he's gonna be mad at mother nature. She's hurting her kids. She's a mean mom.
Me: She's not really a mom, thats just what people call it.
Her: Whatever. Whoever this nature lady is, is a pain in the butt. She's always hurting people. Tell her go to mars, and nature herself over there.
life:
As Japanese officials say two nuclear reactors have likely suffered partial meltdowns, an explosion is feared at another reactor at the Fukushima Daiichi power plant.
(CNN) — The powerful earthquake that unleashed a devastating tsunami Friday appears to have moved the main island of Japan by 8 feet (2.4 meters) and shifted the Earth on its axis.
"At this point, we know that one GPS station moved (8 feet), and we have seen a map from GSI (Geospatial Information Authority) in Japan showing the pattern of shift over a large area is consistent with about that much shift of the land mass," said Kenneth Hudnut, a geophysicist with the U.S. Geological Survey (USGS).
Reports from the National Institute of Geophysics and Volcanology in Italy estimated the 8.9-magnitude quake shifted the planet on its axis by nearly 4 inches (10 centimeters).
The shift of the axis on which the planet's mass is balanced slightly changes the length of time it takes the Earth to make a complete rotation - after the Chilean quake it meant that each day was about 1.26 microseconds shorter. A microsecond is one-millionth of a second. (Montreal)
The temblor, which struck Friday afternoon near the east coast of Japan, killed hundreds of people, caused the formation of 30-foot walls of water that swept across rice fields, engulfed entire towns, dragged houses onto highways, and tossed cars and boats like toys. Some waves reached six miles (10 kilometers) inland in Miyagi Prefecture on Japan's east coast.
The quake occurred as the Earth's crust ruptured along an area about 250 miles (400 kilometers) long by 100 miles (160 kilometers) wide, as tectonic plates slipped more than 18 meters, said Shengzao Chen, a USGS geophysicist.
Smoke rises from the Fukushima nuclear power plant in Japan Saturday after an explosion at one of its buildings, blowing the roof off one building, brought down walls and caused a radiation leak of unspecified proportions.  The evacuation zone around Fukushima has been doubled to 12 miles in radius.  A government spokesman initially denied that an explosion had occurred — despite video evidence.  (Photo: NHK TV via APTN / The New York Times)

I think we should all be concerned at this point how the Japanese government is handling the situation at Fukushima.  It's understandable that there may be some confusion just one day after a massive earthquake, but for Christ's sake, you can't have a government spokesman denying that an explosion happened when it fucking happened. And that's after they told us everything was okay at the four nuke plants closest to the epicenter, when things clearly weren't.


The International Atomic Energy Agency needs to take point on any and all news regarding Fukushima and the country's other nuclear reactors.  The Japanese government just can't be trusted anymore.


Well, this isn't what we expected to wake up to. Good morning Japan.
(via shortformblog)